Apple Crisp Pattern

This piece is as memorable as the smell and taste of real Apple Crisp, and we hope you will find this 'dessert' also your liking. This pattern uses the English Paper Piecing method and is all done by hand.


Price

$9.00

Quantity:






Autumn Migration Pattern

Don't let these flying geese scare you, they are on their way south! This wonderful framed piece will fast become a favorite piece to make. The center appliqué is rough-edge appliqué - very easy and quick to do.


Price

$9.00

Quantity:






Baby Kate's Doll Quilt Pattern

Every baby-doll needs her own quilt to help her (and her young Mommy) feel special. These 12 little blocks are highlighted with some darling embroidery and finished off with a scalloped border.


Price

$9.00

Quantity:






Best Friends Pattern

There are always those few friends in your life that are always there no matter what, always understand, always hold your heart close. This double friendship star intertwines your friendship into a beautiful art piece to keep or to share.


Price

$9.00

Quantity:






Block Garden Pattern

This art piece measures approximately 14" when complete. Using the Double Stitch to piece together 49 squares, makes this such an appealing work from the heart.


Price

$9.00

Quantity:






Cabin Star Pattern

These fabulous 4 inch log cabin blocks are such fun to make.


Price

$9.00

Quantity:






Celebrate! Pattern

Every season gives us a reason to celebrate and enjoy. This pattern is a summer celebration, but can be changed with color or applique to make it a celebration for any time of year. The embroidery and buttons are a special embellishment.


Price

$9.00

Quantity:






Churning

An all-time favorite block, Churn Dash, is doubled up to make it more fun. This block goes together so quickly you will want to make one in every color combination! 12 1/2" square


Price

$9.00

Quantity:






Confetti Pattern

A fabric party, that is what you will have when you put this wonderful piece together. Don't be afraid of trying all colors of fabrics and celebrate with CONFETTI !


Price

$9.00

Quantity:






Count Your Blessings Pattern

This variation of the Churn Dash block is charming and makes learning the Double Stitch easy. This framed pieced finishes up at 15 1/2" x 16 1/2".


Price

$9.00

Quantity:






Dresdan Lane Pattern

The Dresdan Plate quilt pattern became popular in the 1920's and 1930's and we still love these great quilt blocks today. This pattern will allow you to make a vintage piece with current or reproduction fabrics and because it is only one block, it is a w


Price

$9.00

Quantity:






Fresh Herbs

Create a palette of fresh lavender or your favorite herb from the garden. Go with muted colors or bright. 14" square


Price

$9.00

Quantity:






Garden Gate

Walking through the gate to my garden, you will find all different flowers, vegetables, and even a pretty weed or two. It is a simple yet magical spot. That is how we think of this project - simple, yet magical. This should become a fast favorite! (12


Price

$9.00

Quantity:






Ginger Snap Pattern

As anybody will tell you, Ginger Snaps are highly addictive and have many degrees of spicy-ness. That is what we wish for you when you start this project


Price

$9.00

Quantity: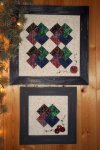 Hard Candy Pattern

Who doesn't like hard candy...all flavors....all colors?


Price

$9.00

Quantity: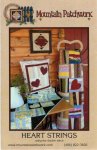 Heart Strings Pattern

This pattern helps you use up scraps if you want or you can plan your project. The 'strings' are the edges you trim off your fabric after you have washed & dried it.


Price

$9.00

Quantity:






Kindness Pattern

Kindness and goodwill are always part of a trip around the world. You can find yourself in a far away place or right in your own backyard. This pattern allows for the use of any and all types and patterns of fabric.


Price

$9.00

Quantity:






Lavender Season Pattern

Lavender Season can be done with so many color groups - pick your favorite and have fun. You can keep your project small or make the larger quilt, or anything in between. The framed piece finishes up at 16" square and the quilt approx. 87" x87".


Price

$9.00

Quantity:






Let the Sun Shine

This colorful and simple art piece has an added bright surprise in the center. All done with the Double Stitch makes it a warm and primitive piece you will be glad to hang anywhere. The piece finishes at 14" square


Price

$9.00

Quantity:






Liberty Banner Pattern

Red, White & Blue are three powerful colors. No matter how you arrange them, they fill our hearts with patriotic spirit. The art work and the table runner featured in this pattern are wonderful additions to your summer decor and table.


Price

$9.00

Quantity:






Log Cabin Pattern

Our Log Cabin pattern has detailed instructions for making the log cabin block using the Double Stitch. This can all be done by hand and you will be amazed at how fast, easy, and satisfying it can be.


Price

$9.00

Quantity:






Montana Star Pattern

The stars in the Montana sky are bright and plentiful and can keep your attention for hours. This art piece can be made accentuating the boldness of the star or it can be played down to be ever so subtle.


Price

$9.00

Quantity:






Mountain Braid Pattern

Using light and dark fabrics will give you a wonderful pattern in this braid. You can go completely scrappy or plan your colors, either way you cannot go wrong.


Price

$9.00

Quantity:






Nana's Flower Patch

This timeless block will connect you with the Grandmothers of yesteryear. The method of English Paper Piecing is accurate and easy to do... really! The framed piece measures 14" square.


Price

$9.00

Quantity:






Patches Pattern

Four nine-patches encircle and highlight this flower garden center.


Price

$9.00

Quantity:






Peppermint Pattern

Who doesn't love a peppermint or at the very least, red and white together?


Price

$9.00

Quantity:






Prairie Flower Pattern

A beautiful burst of color out on the prairie is always a welcome sight and a spirit lifter. By changing the color and fabrics of your points, you can change the season and feel of your flower. This flower is quick and fun.


Price

$9.00

Quantity:






Pumpkin Patch

It's a pumpkin patch to adorn your wall or table. We love the harvest season with all the warm and cozy colors of Fall. Artpiece is 12 1/2" square, tablerunner is 16" x 32"


Price

$9.00

Quantity:






Remember... Pattern

This traditional bow-tie block has a nostalgic look & feel that will make it a pleasure to piece & quilt. As you work on it or look at it after it is finished, you will be amazed at the memories that will flood your thoughts.


Price

$9.00

Quantity:






Ring Around the Rosie Pattern

Enjoy spring and summer flowers all year long with this great take-along project. You will enjoy your blooms throughout the seasons.


Price

$9.00

Quantity: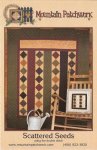 Scattered Seeds Pattern

This wonderful piece has you scattering your seeds and reaping a beautiful quilted treasure. The quilt uses 5" charm squares and the art piece is charm square and fat quarter friendly. The art piece measures 15" square and the quilt 65" x 79" approx.


Price

$9.00

Quantity:






Scrappy Nine Pattern

We have always loved the look of a 'scrappy' quilt or project. We also love picking through our stash and finding fabrics we forgot we had and fall in love all over again with them. These are the fabrics we put in our scrappy quilts.


Price

$9.00

Quantity:






Spring Showers Pattern

Like the saying goes...Spring Showers bring May flowers. That is what came to mind for these wonderful whites, grays, browns, and blacks. And POW, flowers to brighten up the stormy background.


Price

$9.00

Quantity:






Square Dance Pattern

We have given you an actual visual if you decide to take the 1 block art piece and continue into a larger project such as a quilt. How fun! This block uses 2 1/2" squares of dark and light fabrics with sashing and borders.


Price

$9.00

Quantity:






Starburst Pattern

Star light...star bright...a burst of star we sew tonight! This dramatic star will take on all the attributes of the fabrics you use. When piecing by hand, the assembly is so easy it will amaze you.


Price

$9.00

Quantity:






Steppin' Up Pattern

This Courthouse Steps quilt block is adapted using the Double Stitch. It is a variation of the log cabin quilt block, and can be just as versatile. Using scraps in a random pattern or planned lights and darks would make either an appealing project.


Price

$9.00

Quantity:






String Along Tote Pattern

We all need more bags! This can be made with 'strings' or strips of your favorite fabrics. We are still using the Double Stitch, but there are a few places you will want to use your machine for strength.


Price

$9.00

Quantity:






Teacher's Pet

Who doesn't know and love a teacher? This project is a great way to give that special teacher something that will be treasured always. This art piece finishes at 12 1/2" square


Price

$9.00

Quantity:






Tulip Time Pattern

The Spring tulip bulbs have bloomed and they have filled our hearts with happy thoughts of warm, lazy, Spring days. Real tulips last such a short time, so we have made these beauties to last forever.


Price

$9.00

Quantity:






Vines & Blooms Pattern

A few squares and some light colored sashing between them, make these vines & blooms 'pop' off your project.


Price

$9.00

Quantity:






Wildflower Pattern

How dramatic the black background makes this wildflower pop out at you! Great to use your scraps. How fun!


Price

$9.00

Quantity: